Last Updated on
Self-managed rental properties across Adelaide can be some of the worst looked after by the tenants. Unfortunately, if a homeowner lives interstate or far away from the property it can be hard to always check on the property and if the rent gets paid each week majority of landlords are led to believe everything is ok! Unfortunately, this is not always the case as we have found out over the years performing maintenance and building repairs to various residential and commercially tenanted buildings.
Insurance For Rental Property Problems
Its not until the landlord gets a phone call from the South Australian Police that all is discovered and it's where the nightmare starts to unravel itself! As a preferred insurance builder across Adelaide and in the Adelaide Hills, we come across many scenarios like I have just described above and each one leaves the owners in a sad situation. The results can be truly disastrous and very depressing, finding a place to start over is a challenge, but if you contact the right insurance builder such as Mayfair Building Group the process will feel seamless and move in a fast pace enabling the quickest result possible, a reputation we have built upon over the years. If it's illegal it's going to be a headache.
Significant Repairs
The majority of the time we get involved with an insurance job which requires significant repairs is because something illegal has been going on inside the building and depending on the length of time it can be a real eye opener. Typically, it will be related to some form of drug business, whether it be growing of marijuana or creating drugs using chemicals such as ice. The entire home or building is recreated and made into a manufacturing plant for illegal purposes. Unfortunately, the alterations performed are then left to the homeowner to take care of once the operation is ceased by the police (as seen in images on this page from a recent marijuana raid where all the rooms where converted into grow rooms).

Repairs & Maintenance Tasks That May Be Required
What are the likely tasks needed to be performed to make good? When it comes to making a building good again there are numerous tasks which need to be performed, but in general they will be as follows:
Complete testing of electrical wiring and switch boards as these always get altered to allow for significant power distribution inside the home. The switchboard and its circuit breakers all need to be inspected by a licensed electrician and any necessary repairs performed to make it all safe again. This can also involve the isolation of the power to the property temporarily by SA Power Networks. There can in some cases also be security cameras installed and these will also need to removed along with the wiring associated to these appliances and any kind of monitoring devices and screens.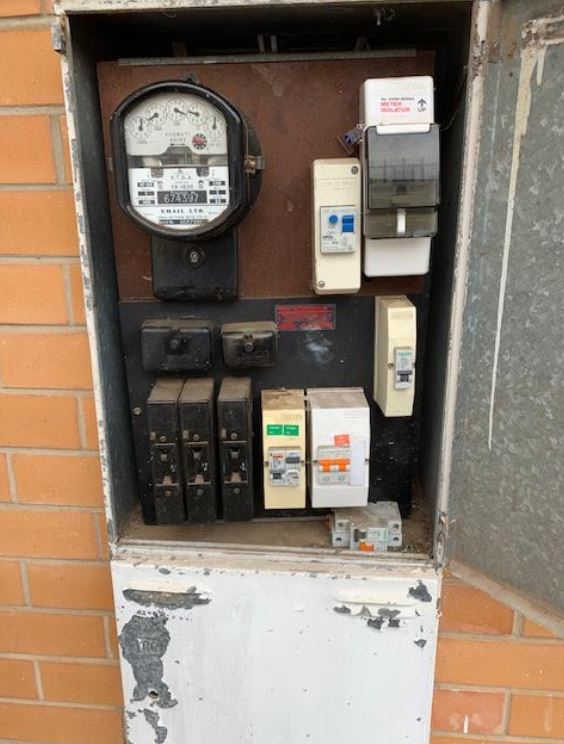 CCTV Camera Investigations of all drains to identify whether there has been any damage caused from the chemicals going into the drains. This can then lead to hydro jet cleaning and further repair work to the sewer pipes whether they are pvc or earthenware. Occasionally we find objects such as syringes and small tools stuck around the S trap of sinks which needs careful removal.
Certification of Backflow Prevention Devices on the property to ensure the potable water being delivered to premises is still ok and in tacked. Because of the high level of chemicals being used during these processes its important to check that all backflow prevention valves are still ok and meeting the manufacturers specifications. If there is a failing device a registered plumber who can certify backflow valves will need to used and perform the relevant repairs and tests.
Gyprock patching and repairs is almost a given due to the holes put in walls to hang items and then the removal of items stuck to the walls the gyprock will need repairing. In some cases, due to high levels of moisture content in the rooms the wall and ceiling linings may need complete removal and reinstated again in order to get a good result, this would also include any new insulation materials (external walls and ceilings typically).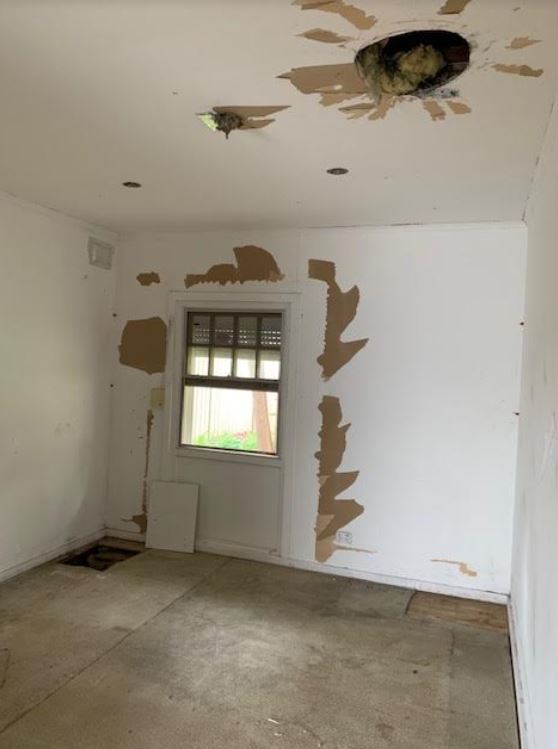 100% the building will need a full repaint internally. Once all repairs are done to walls, door frames, windows and ceilings we would typically come in and spray paint the entire internals. Every situation is different but if all the rooms are the same colour before any floor coverings go down, we would have everything sprayed. The advantage of this is that it is fast and allows a project to move quickly.
Floor coverings are another given these will either be completely ripped up to allow flood modifications or have been ruined due to chemicals etc having been dropped onto them. If the floor has been modified for ventilation purposes, then there will need to be some carpentry works. Depending on the alterations some structural components may need to be repaired or it may just be non-structural repairs. Once these areas have been addressed then the new carpet or floating floors can be reinstalled.
Each building insurance job we perform in Adelaide is always unique in one way or another and certainly it's not always covered by the owner's insurance. Some of the tasks needed to be done may not be covered by the policy or in the worst case the owner may not have insurance leaving all the costs for them to have to pay out of their own bank accounts.
At Mayfair Building Group we pride ourselves on speedy turn arounds with high end finishes. When a scenario such as these arise at a property, the owners want the repairs done fast as they are losing money each week there is no tenants in the building. What sets us apart from our competitors is our prompt approach to assessing the insurance building repairs, submitting our findings and recommendations and then once approved getting the job started. Find out for yourself today why we are a preferred insurance builder in Adelaide.