Last Updated on
Plush hand towels, marble flooring and mood lighting; there's something special about swanning about an opulent bathroom that feels ultra-luxe, especially after a tiresome day at work. But without the right help, creating a spa-like space in your own home can be challenging to achieve. Which is why we've put together some handy tips and tricks of turning a simple room of purpose into a 5-star hotel spa that will leave a lasting impression.
1. Lighting
Sick of your clinical, fluorescent lights that flicker half a dozen times before finally making up their mind? It might be time to revive your bathroom lighting. Consider backlighting your vanity mirror for even dispersion of light and to eliminate unflattering shadows. Or, swap out those dreary fluorescents with low-glow LEDs that hide beneath bulkhead alcoves, behind mirrors or under cabinetry. You'll be amazed at the difference indirect lighting can have to your bathroom's atmosphere.
2. Chrome
Particularly in bathrooms, finishes are everything. For a timeless mix of luxury and class, go against the modernist grind and opt for traditional chrome fixtures and fittings. Chrome blends practicality with elegance and chic. Traditional-style faucets, handrails and towel racks, combined with marble finishes and fluffy Egyptian cotton hand towels ensure a timeless feel that screams Ritz Carlton.
This chrome faucet blends well with a sleek and modern vanity design and reflects LED light well to give it a striking sheen.
3. Double sinks
Despite what tradition tells us, double sinks don't have to be reserved for master en-suites. Providing you have space, having two sinks in one bathroom is not only practical, but it's reminiscent of luxe mansions and high-end hotel suites.
For couples and families, it also means you don't have to wait in line to get ready in often frantic before-school and work mornings. This white double sink bathroom vanity is paired with two large storage drawers beneath to help
minimize clutter and add symmetry to the bathroom's overall design.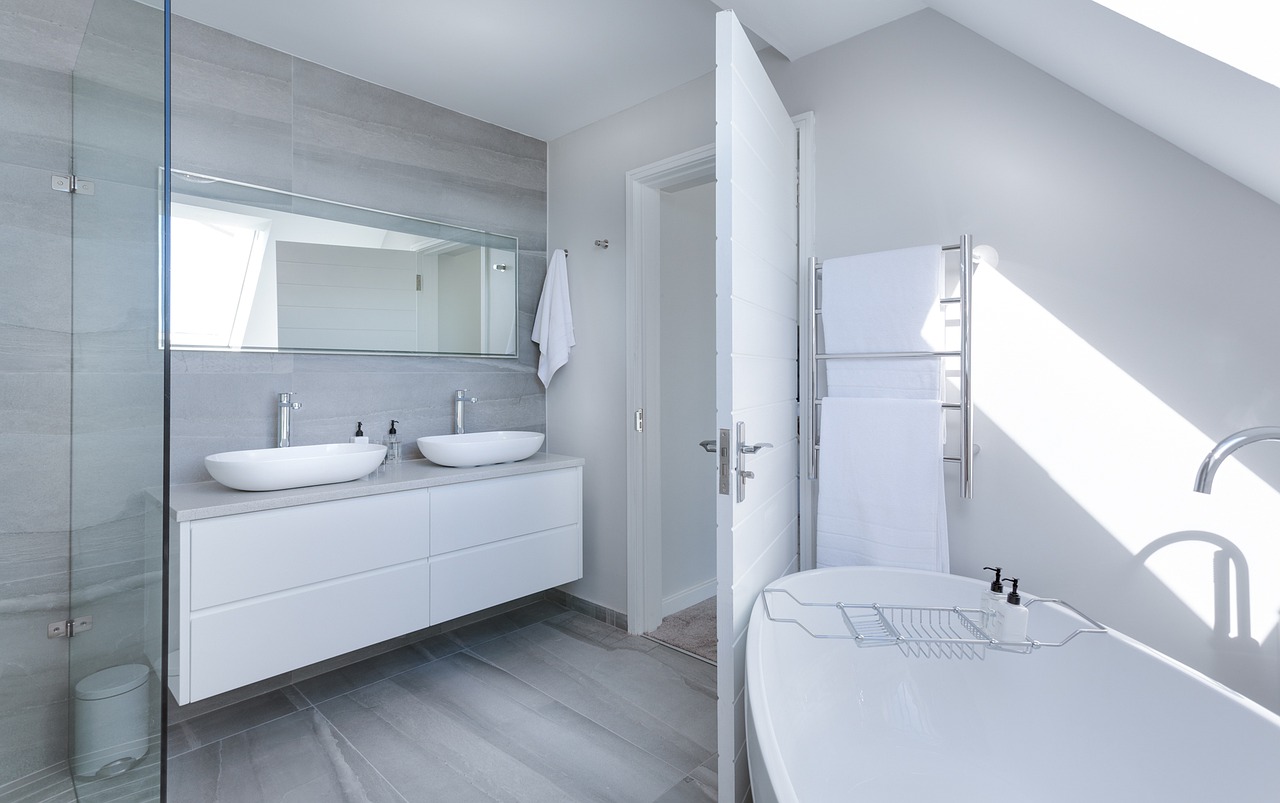 Pair your double vanity sinks up with individual mirrors or install one large shared mirror to enhance the size of your room. Either way, a double sink bathroom can turn an ordinary space into one that's refined, sophisticated and welcoming.
4. Mood sounds
Okay, this one might sound a little far-fetched but have you ever been welcomed by rain forest sounds in a five-star restaurant's bathroom and felt immediately relaxed? Mood audio is a phenomenon yet to make its mark in the residential market, but it's one that will surely set your bathroom apart from the rest. And, if you want to create a one-off, bespoke space, that's unique and memorable, then mood sounds will give you just that.
Bathrooms are usually the last thing on a homeowners list when it comes to investing dollars into creating a mood-enhancing experience, but taking that extra step will help you achieve that spa-like atmosphere you're going for.
Mayfair works with many suppliers who deliver state-of-the-art AV systems for bathrooms that have been designed to resist humidity and excess moisture. Just ask us about them!
5. Marble
Think about the most luxurious bathroom you've ever set foot in, and we'll bet it had marble countertops or tiling. Once reserved for cash-plenty homeowners, marble is more accessible and affordable than ever before, with marble veneer products taking top place in the market over solid marbles alternatives. To make your bathroom feel bright, airy and large, we suggest going for a light coloured, less complicated marble finish. Team marble up with plush bath and hand towels for added extravagance.
This striking grey and white marble bathroom is contrasted nicely against bronze fixtures and crisp white countertops to make the room pop.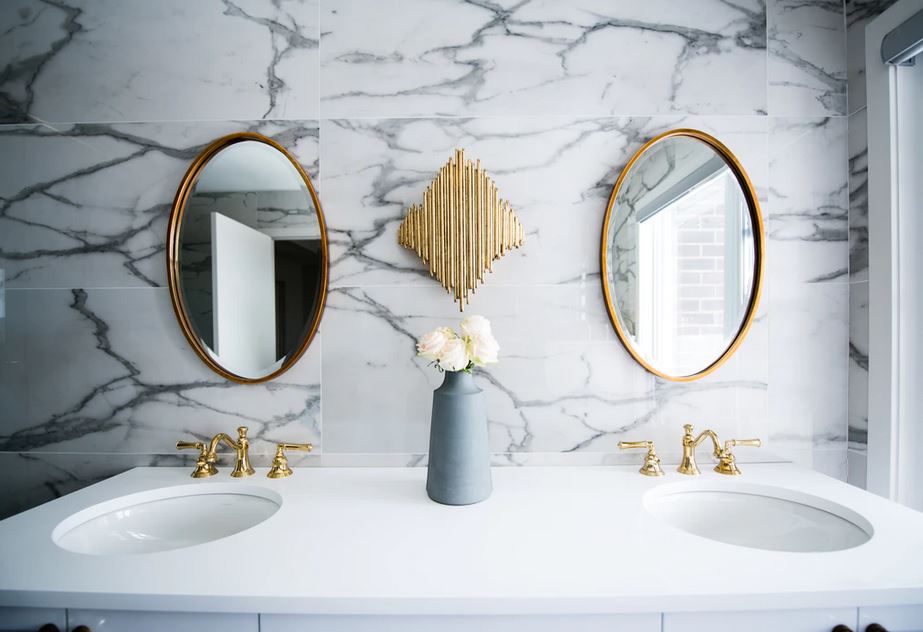 Want to go that one step further? Ask us about underfloor heating beneath your marble tiling for total decadence!
6. Dressing tables
Ever fantasized about sitting in front of a dimly lit dressing table in an opulent bathroom slapping on aftershave or applying your makeup before a night on the town? Your fantasies could soon become a reality by installing your very own luxurious seated dressing table in your bathroom.
A cozy, functional and bright space can turn obsolete corners of your bathroom into practical and luxurious areas. A tasteful vanity dressing table also gives you the storage you need to eliminate cosmetic and toiletry clutter from countertops.
7. Rainfall Shower Heads
Whether you live in a 40 square foot studio in the East End or a country estate in the Adelaide Hills, one aspect of a bathroom that doesn't discriminate when it comes to space is shower heads.
Investing in a chrome rainfall shower that has a filter to activate different pressures can turn your mundane before-work shower into a resort-like sensory experience. Keep things simple with a combined rainfall and handheld shower head combination like in the image below so that you can alternate between the two, according to your desired pressure. Having the handheld shower device also makes cleaning the recess easier!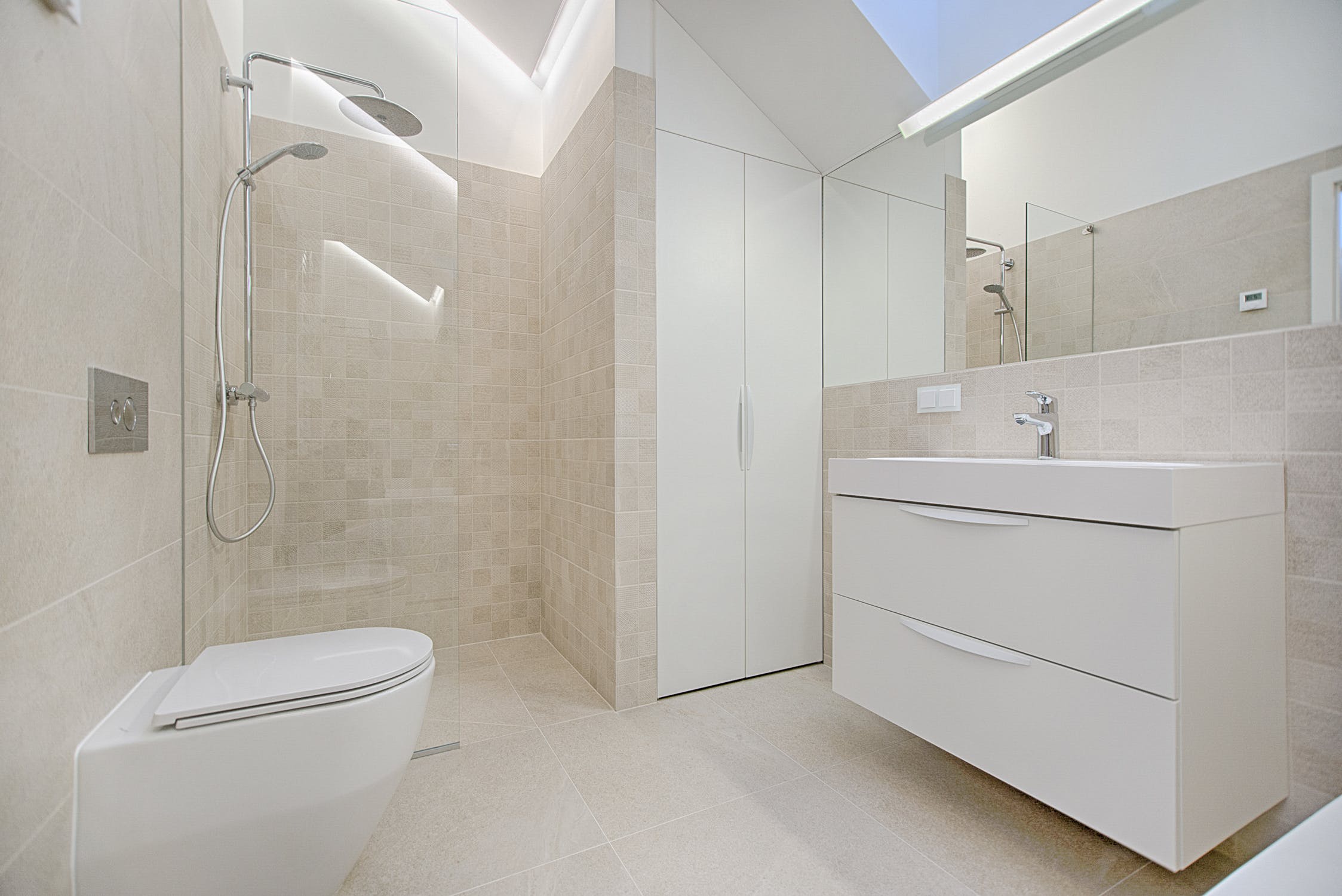 Have you got the floor space for a double shower? Why not indulge in "his and hers" rainfall shower for total indulgence. You'll save the frustrating wait in the mornings and add an added level of symmetry and spaciousness.
Are you wanting to transform your tired bathroom into one of opulence and luxuriousness but don't know how to get there? Regardless of budget, Mayfair Building Group are experts at transforming your dreams into tangible realities. Give us a call today!