12 Kennaway Street Tusmore – Completed By Mayfair Building Group
This Circa 1935 Art Deco home in Tusmore has recently undergone a huge transformation bringing a luxury feel of modern Art Deco back into this home. You can see before and after image hereL
BEFORE: https://www.homely.com.au/homes/12-kennaway-street-tusmore-sa-5065/6197688
AFTER: https://www.realestate.com.au/property/12-kennaway-st-tusmore-sa-5065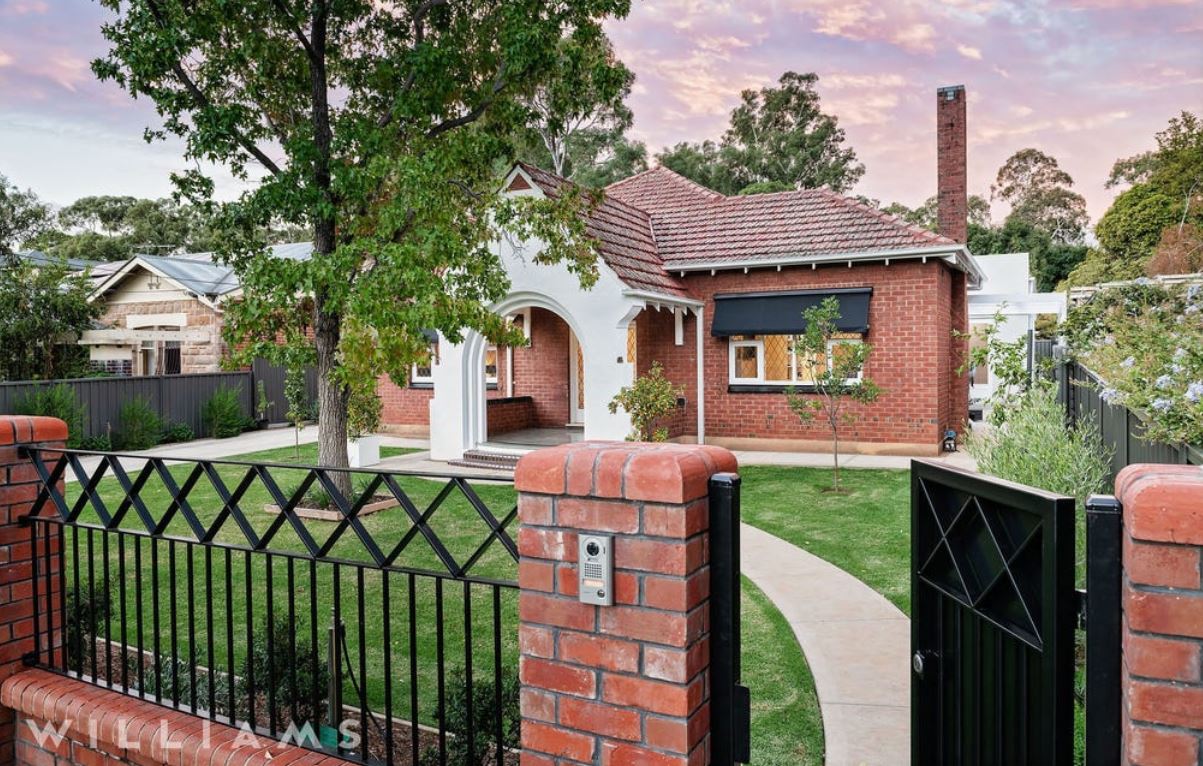 Property Location
The property located in heritage street scape zoning of the Burnside council has kept with the styling of the area
while achieving a new luxury feel to house. Starting from the front of property the bricks removed from the freestanding garage where salvaged, dressed and repurposed to raise the heights of the front pillars. Metal in fill panels and electric gates where then manufactured to compliment the lead light glass in the front windows and doors of the home.
Front Entrance
The front entrance portico terrazzo flooring was grinded back 2mm and polished to bring this beautiful emerald coloured stone another lease on life. The ceiling lining was renewed and painted which included the addition of art deco light fittings.
Under the main roof of the home 3 generously sized bedrooms were created each with their own walk-through robes and bathrooms. Additional to this was the creation of a library. The original Rimu floorboards where sanded and polished giving a bespoke feel to all the rooms including the grand entrance. Terrazzo looking floor tiles were used in all wet areas to compliment the art deco style of the home.
To the rear of the home the two-storey addition was removed and new 120 square metre addition was created. Architecturally designed the building uses eco-friendly wall panelling along with tiles for the window hoods and alfresco roof repurposed from the two-storey addition which was removed. The concrete slab has been laid using a ghost-coloured concrete which has been grinded back to a medium exposed aggregate.
The Kitchen
The kitchen has high end shaker cupboards and all bench tops throughout the property have Caesar stone in either the cloud or washed concrete colour tones. A 900mm freestanding SMEG gas oven commands the attention of this grand rear addition. Behind the kitchen is a full butler's pantry incorporating a Bosch dishwasher and Billi filtered/chilled water dispenser. As part of the new addition a fourth bathroom was built along with a generous study off to the side leading out to a modern wooden pergola.
View more information on our kitchen renovation service here.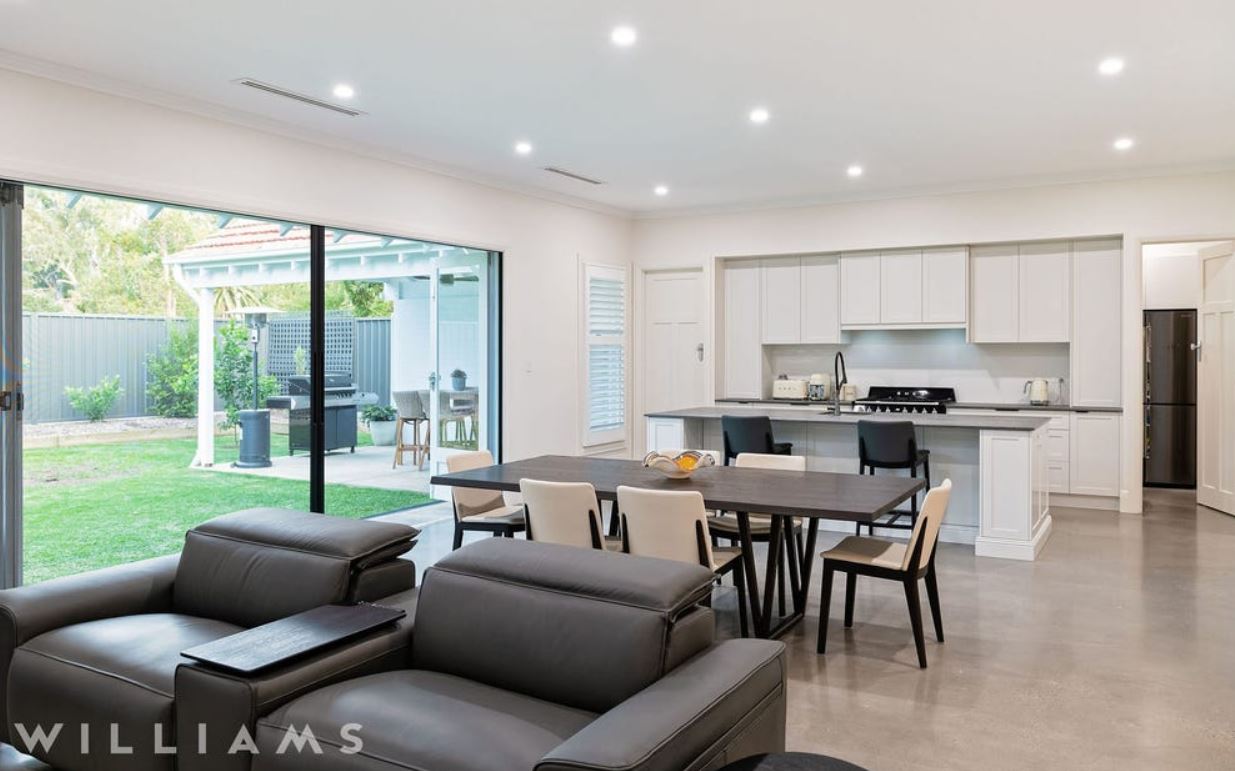 The Alfresco Room
Leading out to the back yard is a huge 5 metre cedar bi-folding glass panelled door. The alfresco room has provision for both gas barbequing and gas heating along with a large 7 speed outdoor fan. Around the entire property are concrete pathways along with a huge driveway designed to accommodate up to 6 vehicles with a carport built to cover 2 large vehicles. New fencing around the building's perimeter with rear gated access out to beautiful Tusmore park.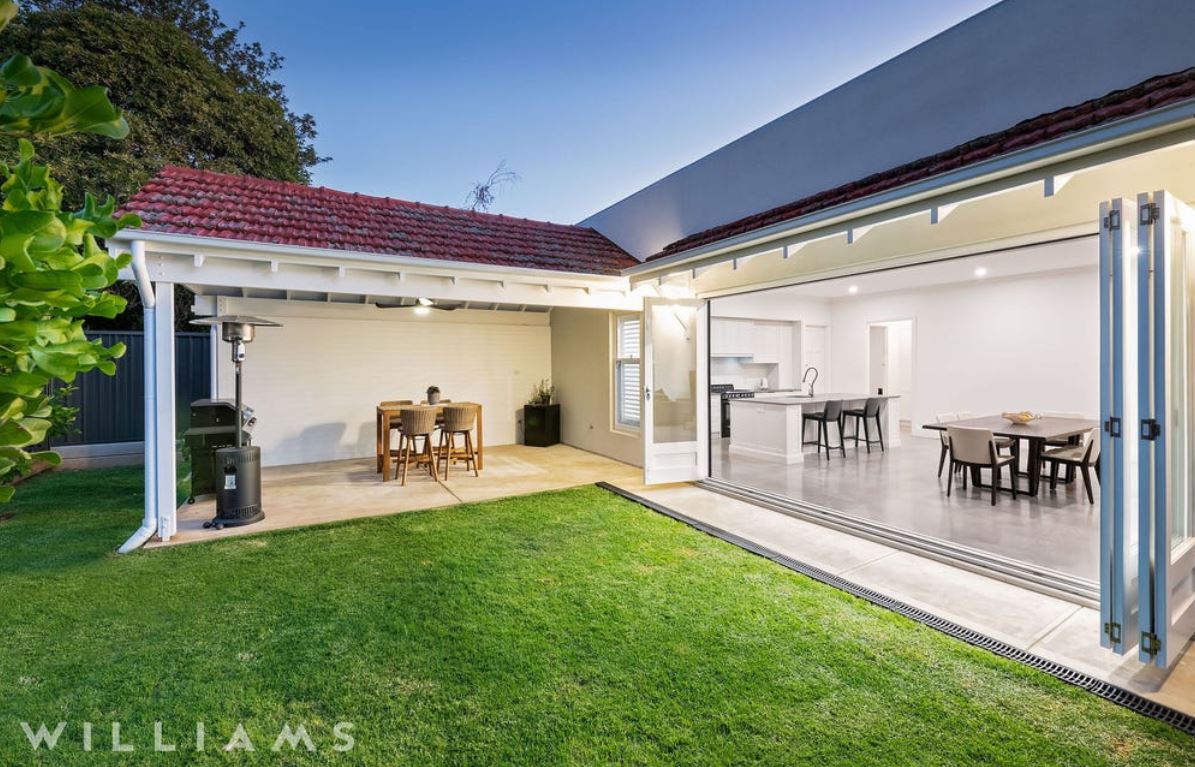 A finishing touch is the gun metal grey storage shed with electricity and water supplied to it. This beautiful art deco home in the heart of Tusmore will remain on trend with all periods of time due to its neutral colours and finishes leaving the home owners extremely happy.